Have you heard of the new Danfoss DM1X00 series? As part of their PLUS+1 platform, they deliver the software application development power you need. Referred to as "advanced display features with unparalleled sunlight viewability," the Danfoss DM1000 and DM1200 series are 10" and 12" screens that bring modern features and extreme durability to the mobile off-highway application cab experience.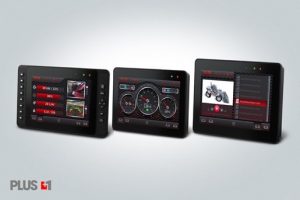 The displays are fully configurable and include the following features:
16:9 wide screen ratio (1280 x 800 resolution)
Flat front design and minimal bezel
Advanced camera solutions viewing up to 4 cameras and while displaying up to 2 at the time
Ethernet, USB 2.0 high speed
Option for WiFi, Bluetooth® and GNSS
Options for keypad with either 8 buttons on each side (16 total) or 8 buttons plus navigation panel (16 total)
Multicolor optical signal (2 RGB LEDs)
Integrated ambient light sensor for automatically adjusting brightness to lighting conditions
Easy programming with the PLUS+1® Widget library
Whether you are in the agriculture, construction, crane & material handling or forestry industry, the DM1X00 is built to improve your productivity. If you are seeking a display with high brightness, optical bonding and anti-glare screen technologies that provide market leading sunlight viewability in the light hours while also automatically adjusting brightness in low light, the DM1X00 series is the product you need. Have questions? Contact us today to learn more.
Product information provided by Danfoss.