Danfoss' new generation of digital displacement pumps is here to revolutionize the off-highway market. Whether diesel, hybrid or electric, their digital displacement technology is at the heart of your mission. Danfoss digital displacement technology utilizes a radial piston machine enabling cylinders in real time using ultra-fast mechatronic valves. The control of individual cylinders allows a single pump to have multiple independently-controllable services providing system innovators a platform to invent new architectures to unlock the capabilities of digital hydraulics.
The intelligent, digital controls mean a digitally-enabled machine is highly controllable and extremely efficient. The net result is:
Dramatically lower energy losses (typically less than a third of swash-plate machines)
Dramatically faster response (typically ten times faster)
Reduction of annoying, high-frequency noise
Applications that may benefit from a digital displacement pump are in the following industries: agriculture, construction, crane and material handling, forestry, heavy machinery, and road building. The efficiency and productivity of mobile machinery can dramatically be increased by replacing a standard pump with a digital displacement pump. There is far more to digital displacement pumps than mentioned in this brief blog.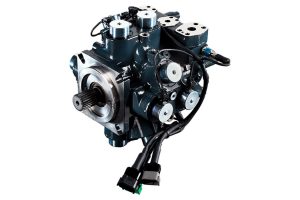 As a proud partner of Danfoss, Hydraquip is here to help with all of your hydraulic needs. Contact info@hydraquip.com with any questions you may have. We are here to help!